Meet the Founder
Kaye is an Entrepreneur, who wears many hats. He's a Creative Director, CEO, a seasoned Marketing and Business Development Executive, with a track record for delivering results.
As an individual raised to be proud of his individuality, whilst also celebrating diversity and having an inclusive approach to life- he found that most hair services business were at odds with this approach. Having struggled to sometimes find salons that could cater for his hair type in his slightly up market neighbourhood as well as hearing several horror stories of friends and family struggling to find affordable, accessible and efficient services- Kaye sought to do something different and to be a part of the change he wanted to see. So, like a true entrepreneur he rolled up his sleeves with the help of his Co-Founder, Laure, they launched Chop Chop London.
His goal for Chop Chop London is simple: To create an inclusive space and service experiences that respects everyone's individuality as well as our collective human desires to look and feel good. To deliver an exceptional and efficient service, which also respects the planet by minimising waste. Furthermore, to enhance and contribute in a positive way to the lives of everyone of our customers.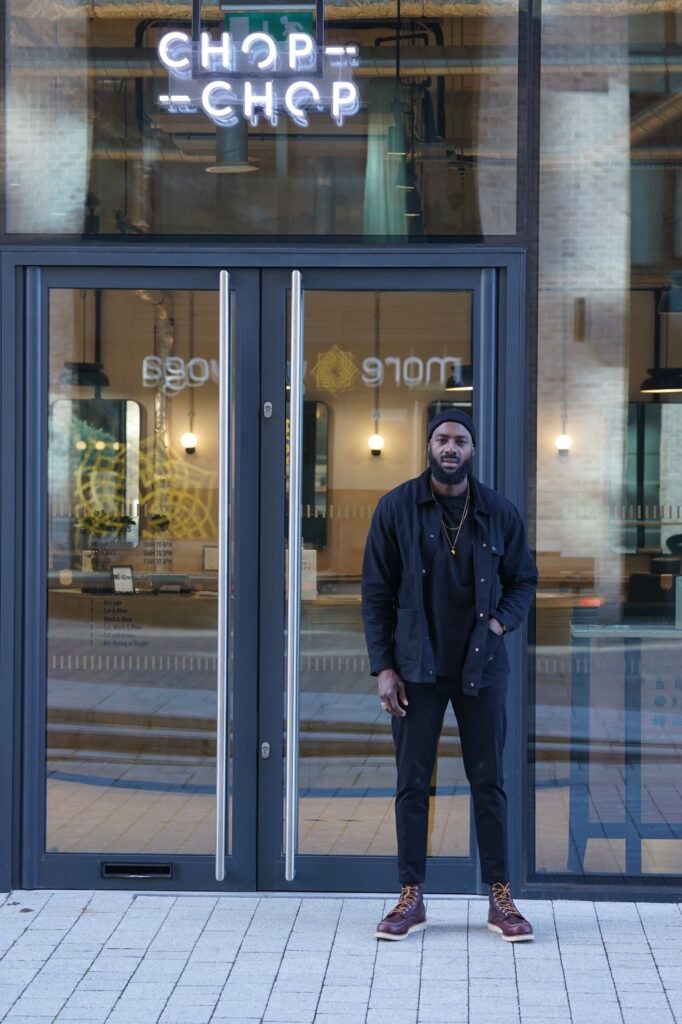 The Chop-Chop Pod
"The Pod is the way we envision the future of On Demand Haircare. A mobile, light structure which welcomes each customer into an elegant piece of architectural design.
Desiring an environmentally friendly work station, we approached the pod with minimalism at the heart, focusing on the customers' as well as the stylist's needs; Whilst also, minimising space and material. The design is pure yet edgy, creating an atmosphere that fosters creativity for our stylists and calmness for our customers. A black metal frame and polycarbonate envelope expresses an accessible service while referring to temporary structure. It brings a timeless fashion aesthetic similar to a backstage environment, where everything is in motion to prepare for the show. This look and feel guides the customer toward a quick, fun and playful experience.
The pods folding structure was takes inspiration from the travel suitcase which needs to be functional, durable and easy to move with."